The Most Secure Way to Share.
Securely share & store sensitive documents and data in minutes.
DekkoPro protects your company's sensitive data and documents with zero-knowledge and military grade end-to-end encryption in one easy to use online platform.
Start sharing securely in minutes
No credit card required
Organisations of all sizes across the globe trust Dekko
DekkoPro users enjoy increased productivity with leading-edge security.
DekkoPro's ultra-secure data sharing and collaboration platform for government departments and enterprises is now available to all security conscious businesses.
Whether you are collaborating on confidential M&A transactions, sharing highly valuable medical research documents, or processing sensitive legal documents, DekkoPro is easy to use and allows you to work with greater confidence and with optimal productivity.

Proven Protection
Independently tested and verified by Deloitte and Enex Test Labs.

Secure Hosting
DekkoPro is hosted on Microsoft Azure with a compliance-centric configuration.

End-to-end encrypted
Guaranteed content security, privacy, integrity.

ASD Essential 8 Ready
Help protect your organisation by adopting technologies that are compliant.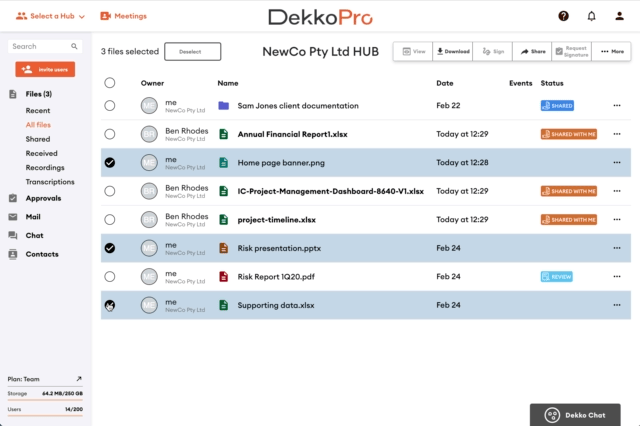 Ultra-secure file sharing and collaboration.
File sharing with no size limits

L

ink-free sharing without password

management
Project groups with granular visibility controls
No downloading or installation of apps necessary
Ultra-secure eSignatures and document approval.
Fully integrated, confidential and legally binding e-signatures

Comprehensive audit trails with external document validation and clear chain of custody
Annotate and mark up documents with text, images, notes and e-signatures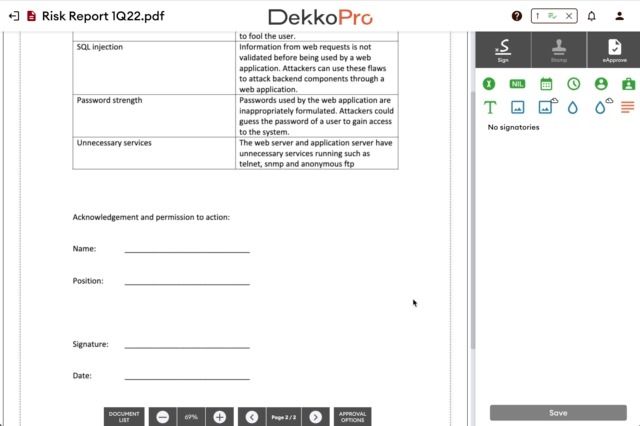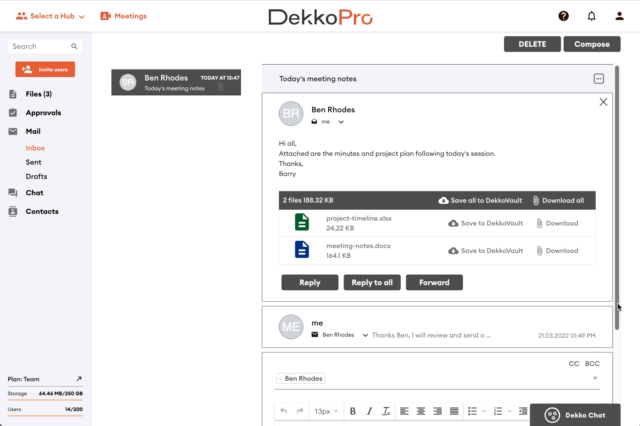 Ultra-secure email and chat.
No attachment file size limit

Auditable and exportable chat logs
Read notifications and true revoke
End-to-end encrypted, 1:1 and in groups
When data security is critical, Dekko is trusted by governments and enterprises across the globe...
Dekko has a very strong encryption focus, a user friendly gateway and we can send large files securely without breaching IT security rules. It replaced a very manual and time consuming process using PTP encryption and keys.
There are many solutions enabling quick data transfers, but they lack transparency and auditability. And they don't have a security-first design. For us, auditability is the key feature with Dekko eSignatures, that others don't allow for.
Dekko file sharing is a great asset for us - a must-have. Providing my clients with end to end security and audit trails is a key identifier. Within our organisation, we do have workarounds, but Dekko file sharing is push button easy to deploy & use.
And endorsed by digital security experts.
Dekko has taken a global lead by perfecting their products through a comprehensive, independent testing program demonstrates clear confidence and commitment to delivering the best practice security products to the market.
ZERO KNOWLEDGE ENCRYPTION
Eliminate human error. Make files inaccessible to anyone except their intended recipients inside & outside your organisation.
COMPLETE DATA SOVEREIGNTY
100% compliance with data residency in the jurisdiction of your choice.
DATA AUTHENTICATION & AUTHORISATION
Your data available 24x7 to authorised parties only with a fail-safe combination of 2FA & Zero Knowledge for complete peace of mind.
COMPREHENSIVE AUDITABILITY
Nuanced access levels, total control, and detailed audit trails leave you with zero doubt & 100% flexibility & accountability.
Why risk using popular solutions that are NOT as secure as DekkoPro?
Tresorit

Dropbox

MS Teams
| | | | | |
| --- | --- | --- | --- | --- |
| End-To-End Encrypted | | No | No | |
| Data Sovereignty by Default | | No | No | No |
| Audit Trails | | | | |
| Web-based (Nothing to Download) | | No | No | No |
| File Sharing & Storage | | | | |
| Unlimited File Size Sharing & Storage | | No | No | No |
| eSignatures, Video Conferencing and Messaging | | No | No | No |
| No License Required for External Users | | | | |
| Unlimited File Versioning | | No | No | |